Skip Navigation
Website Accessibility
Description of Classes & Workshops ~

For more information on the class and workshop that you are interested in, please scroll down, or go to the class registration for cost and details of the classes being offered.

To register for a class and reserve your space, your class fee will hold your reservation spot. 48 hours are needed to cancel your class and receive your refund.

After you have registered for the class, you will receive an e-mail with the details of the class supply list.

Please bring your own machine needed for all classes and workshops.


Private (one-on-one) Instructions
Cost is $25.00/hour.
Call for more information, or stop in to schedule a time.



Introduction to Quilting
Next Class Begins Starting:

$125.00 for all 5 weeks
Time: 10:30 a.m. - 2:00 p.m.
5 sessions, each class approximately 4 hours
Learn the basics of quilting step by step, and make something beautiful and useful!
We'll be making a 48" x 64" quilt, similar to the sample on display at the shop, from start to finish. Each class will focus on one or two steps of the quilting process. You'll learn about the skill, observe demonstrations and ask questions, practice the technique yourself, and then go home with an assignment to be completed for the following class.
At the end of the series, you will have mastered basic quilt making skills and finished your quilt. You will be inspired and ready to go on to your next quilting project!
Call for more information, or stop in to sign up.
Applique "Turn Under Applique"
(additional tools needed)
​​
There has never been an easier way to turn under your
applique. You will love this exciting method. No more starch, small irons, or making your templates with freezer paper. This class will also teach you Kim Diels' sewn down method..
Perfect Binding Every time!

Saturday, July 1st 2023
10:30am - 4:30 p.m.

Are you having trouble with your binding? Need those perfect Miter corners .... This is a simple class where you learn to put your binding on perfect every time.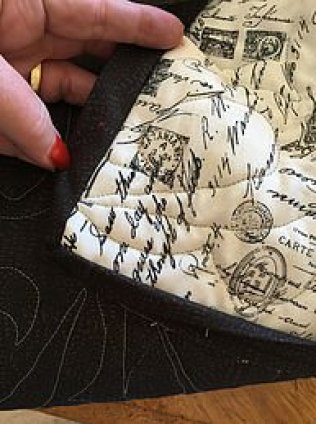 Raw Edge Applique Class - Tree of Life
Sunday, June 11th 10:30am - 4:30pm
Sunday, June 18th 10:30am - 2:30pm
This is a fun Raw Edge class. Play with colors and create your own beautiful Tree of Life.